Regular price
Sale price
$5.99 USD
Unit price
per
Sale
Sold out
Like many traditions, the history of hiding the "Christmas Pickle" is clouded, as well as disputed. Dating back to at least the 19th century in America, legend dictates that is was part of an old Germanic Yule Season tradition, and even give it a name; "Weihnachtsgurke."

On Christmas Eve, after all of the kids were safely tucked into their bed, the Christmas Pickle ornament was hung between the bows of the Christmas Tree. Because of its green color, there is an element of challenge to the game, so depending on the particular family's tradition, the first person to find the ornament on Christmas morning either was awarded good luck in the year ahead, or received a special present that St. Nicholas had brought. Like many traditions, this fun activity actually does serve as a learning lesson by encouraging children to appreciate all of the beautiful ornaments on the tree, rather than rushing to open the presents under it.

In recent years however, articles began circulating that this was not a tradition rooted in any of the German speaking regions of Europe, but described it as purely an American creation. That said, there is documentation dating back to the early part of the 20th century placing the pickle ornaments in Germany. It is unclear whether the Christmas Pickles that have appeared in German-speaking countries have been adopted from the United States, or are due to nearly lost local traditions.

Regardless of the exact history, our 2½-inch long, shiny green, glass pickle ornament can certainly become a fun part of your family's Christmas season.
Share
View full details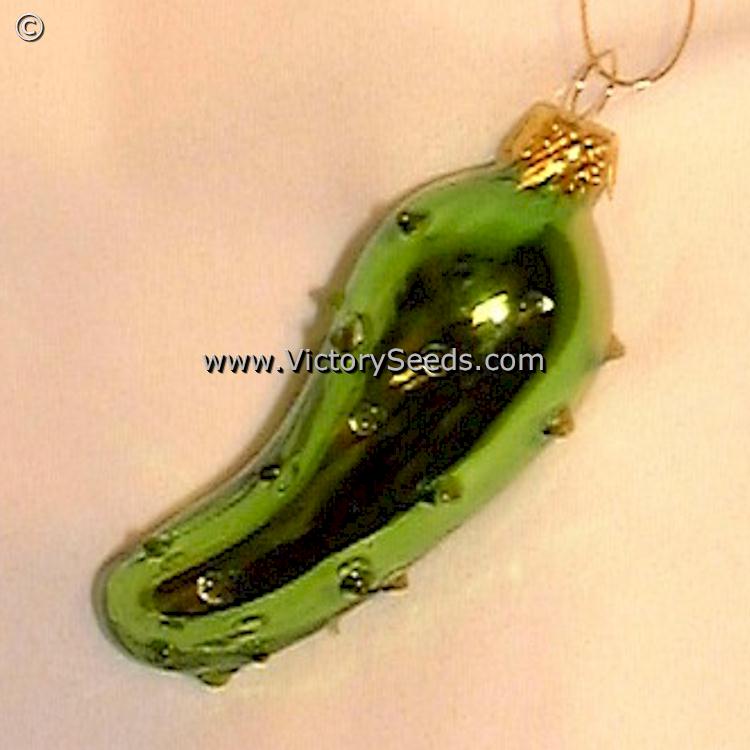 Explore our vegetable collections: