Regular price
Sale price
$2.95 USD
Unit price
per
Sale
Sold out
65 days (to green bean stage) — 'Kentucky Wonder' is a green pole bean with seven to nine inch long, fleshy (rather coarse), fiberless pods that can be slightly stringy. They are curved, somewhat S-shaped, broad-oval and crease-backed in cross section, rough, wrinkled, with seeds filling to the tip and edge but not crowded. Very reliable, early maturing, and productive. An old favorite enjoyed fresh, canned, frozen or dried. Its buffy-brown seeds can also be used dry as an excellent baking bean.
Although this variety is now almost exclusively known as 'Kentucky Wonder', it is a very old heirloom that has been known by many other synonyms over the decades. Some of its other common names included, 'American Sickle Pole', 'Eastern Wonder', 'Egg Harbor', 'Georgia Monstrous Pole', 'Improved Southern Prolific', 'Missouri Prolific', 'Old Homestead Pole' and 'Texas Pole'.[1]
This popular variety was grown throughout the South by the 1850s and first mentioned in publication in an 1864 edition of "Country Gentleman" magazine under the name, 'Texas Pole'.
[1]
James J. H. Gregory & Sons
released it commercially as 'Kentucky Wonder' in 1877. Under this name or one of its many synonyms, it has been one of the most popular green beans of all time. Each ounce is approximately 75 seeds.
Share
View full details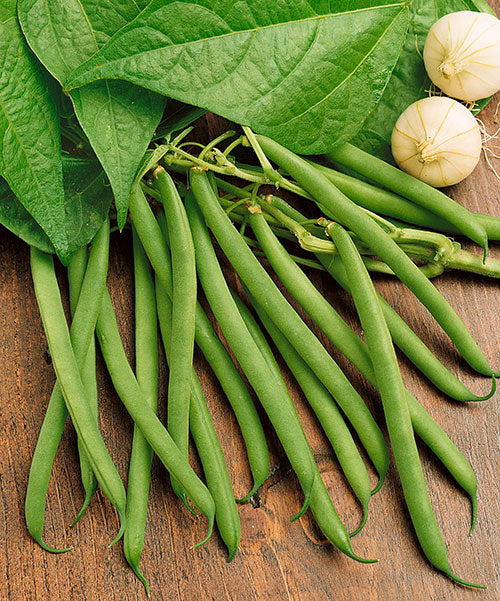 Planting Instructions:
Beans prefer well-drained, rich soil in a sunny location. Make sure that you keep them well watered in the summer heat.
Don't bother trying to get an early start with beans – you'll waste a lot of seed! Beans are a tender vegetable and you should not plant them until all danger of frost has passed and the soil remains above 65ºF. Sow seeds 1½ inches deep, every two to three inches. As they make efficient use of vertical space, provide a trellis. Use string or twine as wire will heat and burn the tender vines.
Pick the pods while young as they are more tender and succulent and less likely to be stringy. For seed saving, allow the pods to fully mature and dry completely out on the vines.
Informational References:
"Beans of New York: Being Vol. 1 - Part II of Vegetables of New York," U. P. Hedrick, New York State Agricultural Experiment Station, 1931, p. 25.
"American Varieties of Garden Beans," W. W. Tracy, Jr., USDA Bureau of Plant Industry, Washington, D.C., Bulletin 109, pg. 118.
Explore our vegetable collections: