Regular price
Sale price
$2.45 USD
Unit price
per
Sale
Sold out
Foxglove
Digitalis purpurea
A wildflower that has long graced the beds of many cottage gardens. They are beautiful, tall and make a nice addition to the back of a bed in a shadier portion of your yard.
In the wild, foxglove thrives in locations that receive partial sunlight to deep shade and have rich, moist, acidic soil. High summer heat may kill them. When choosing a location in your yard, take these conditions into consideration. You are attempting to mimic a woodland setting. They do best if sown directly into the garden as soon as the soil warms to 55ºF.
Grows up to four feet tall. Can be biennial or short-lived perennial depending on the growing conditions. USDA zones 4 to 8. Each packet contains 0.1 gram, which is approximately 100 seeds.
Share
View full details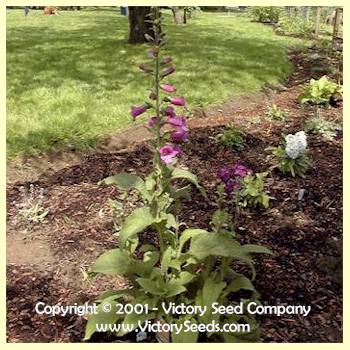 Foxglove has a long history as a medicinal. Its cardiac properties are well documented. It moved from folk medicine into the modern pharmaceutical era.  To the home gardener, it should be noted that all parts of the plants, including roots and seeds, are toxic. Reports of death are rare as serious toxicity generally only occurs by intentional ingestion.
Explore our vegetable collections: