Regular price
Sale price
$8.95 USD
Unit price
per
Sale
Sold out
Specially formulated for gardeners living in Illinois, Indiana, Iowa, eastern Kansas, Kentucky, Michigan, Minnesota, Missouri, eastern Nebraska, Ohio, Wisconsin, southern Manitoba, and Ontario, our Midwest Wildflower Mix contains annual wild flower varieties for a burst of color the first year, as well as perennial species that can provide blooms for years to come.
Each packet contains one (1) ounce which will cover approximately 310 square feet.

The mix includes the following 19 annual and perennial varieties: Black-Eyed Susan (
Rudbeckia hirta
), Clasping Coneflower (
Rudbeckia amplexicaulis
), Corn Poppy (
Papaver rhoeas
), Cornflower (
Centaurea cyanus
), Dwarf Evening Primrose (
Oenothera macrocarpa
), Grey-Headed Coneflower (
Ratibida pinnata
), Illinois Bundleflower (
Desmanthus illinoensis
), Indian Blanket (
Gaillardia pulchella
), Lance-Leaved Coreopsis (
Coreopsis lanceolata
), Lavender Hyssop (
Agastache foeniculum
), Mexican Hat (
Ratibida columnifera
), New England Aster (
Symphyotrichum novae-angliae
), Ox-Eye Sunflower (
Heliopsis helianthoides
), Plains Coreopsis (
Coreopsis tinctoria
), Prairie Coneflower (
Ratibida columnifera
), Purple Coneflower (
Echinacea purpurea
), Purple Prairie Clover (
Dalea purpurea
), Scarlet Flax (
Linum grandiflorum rubrum
), and Shasta Daisy (
Chrysanthemum maximum
).
Share
View full details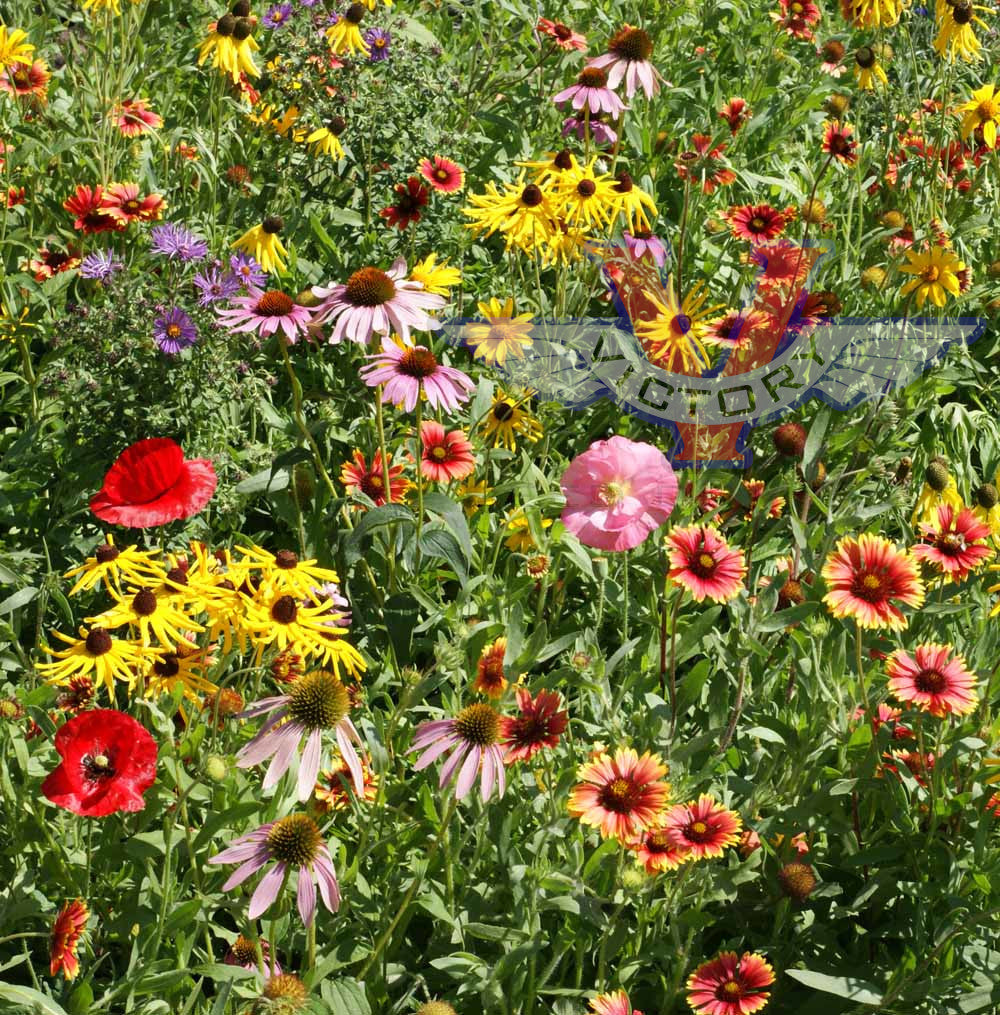 Planting Instructions:
As early in the spring as possible, prepare your flower bed site by removing weeds and loosening the soil. You can sow the seeds by broadcasting and then raking them into the soil. The goal is for the seeds to make good soil contact and to be covered with light soil no more than two-and-a-half times their thickness. Germination will start occurring when the soil reaches about 55ºF. The area will need to be kept moist until germination occurs.
Explore our vegetable collections: