Regular price
Sale price
$3.95 USD
Unit price
per
Sale
Sold out
Maxibel Haricot Vert Beans are a perfect choice for gardeners of all skill levels, as they are easy to grow and require minimal care. These busy type, open-pollinated "french filet" bush beans produce slender pods that are 6-8 inches long and have a very tender, delicate texture.
For optimal tenderness and continuous yields, it's recommended to harvest these beans frequently. The seeds are brown and speckled, and the plant is resistant to Anthracnose and Common Mosaic Virus.
Maxibel Haricot Vert Beans thrive in full sun and well-drained soil, making them ideal for planting in the spring or early summer for a bountiful harvest later in the season.
In addition to being a delicious and nutritious addition to your diet, these beans also make a beautiful addition to your garden. Their long, slender pods and delicate green leaves create an elegant and attractive display that will impress your friends and family.
Each packet of Maxibel Haricot Vert Bean seeds contains 1 ounce, or approximately 120 seeds.
Share
View full details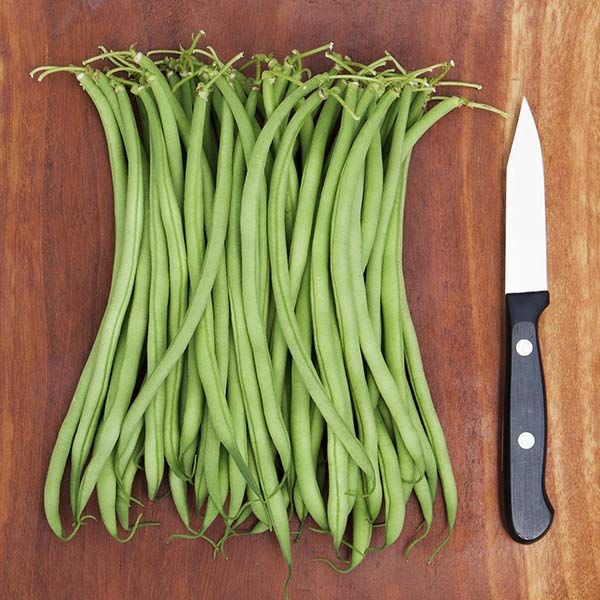 Planting Instructions:
Beans prefer well-drained, rich soil in a sunny location. Make sure you keep them well watered in the summer heat.
Beans are a tender vegetable and you should not plant them until all danger of frost has passed and the soil remains above 65ºF. Sow seeds 1-1½ inches deep, every two to three inches. Bush-type beans do not require support.
For seed saving, allow pods to remain on the plant until they are brittle and open easily. However, if you live in an area with a short growing season, harvest as close to dry as possible and finish drying indoors. Rain and freezing temps will damage beans.
Explore our vegetable collections: