Regular price
Sale price
$2.75 USD
Unit price
per
Sale
Sold out
This standard kitchen garden herb, sometimes referred to as "Wild Marjoram," is most commonly known for its use as a spice in Italian and Latin-American cooking. Oregano, a close cousin to '
Sweet Marjoram
', is also used extensively in Spanish, Portuguese, Philippine, Egyptian, Syrian, Palestinian, Lebanese, Turkish and Greek cuisine. It adds a warm, spicy flavor to recipes. It can grow fairly tall (up to thirty inches), has pink flowers and spreads by underground runners. The herb can be used fresh but is generally used after drying the leaves.
Native to the warmer areas of the Mediterranean and western to southwestern Eurasian regions, Oregano is a tender perennial herb and generally thrives down to about USDA zone 5. In colder climates, it can be grown in pots or outside as an annual. Each packet contains 0.1 gram, which is approximately 850 seeds.
---
Oregano's medicinal properties are described as being
antibacterial
,
antifungal
,
antimicrobial
,
antispasmodic
,
calmative
,
carminative
,
diaphoretic
,
expectorant
, and mildly
tonic
.
As with its close cousin, '
Sweet Marjoram
', an
infusion
is made using two to three teaspoons of fresh Oregano, per cup of boiling water, and used for stomach ailments, providing relief from abdominal cramps in women, headaches, and respiratory issues. Bruised leaves, added to a sleep pillow, were said to help resolve insomnia.
Modern science has identified several important compounds contained in Oregano.  One, called Carvacrol, provides Oregano its
disinfectant
or
antimicrobial
properties.  According to Kelly Bright, who led a research project at the University of Arizona, "
Carvacrol could potentially be used as a food sanitizer and possibly as a surface sanitizer, particularly in conjunction with other antimicrobials. We have some work to do to assess its potential but carvacrol has a unique way of attacking the virus, which makes it an interesting prospect.
"
[2,3]
Share
View full details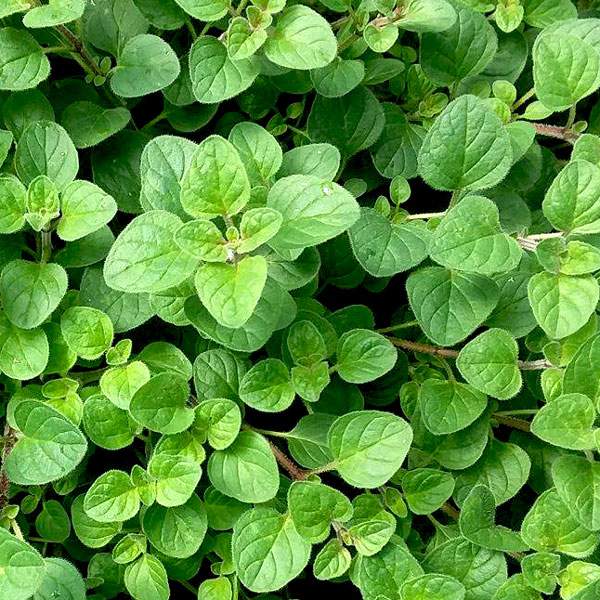 Planting and Growing Instructions:
Oregano is a standard kitchen herb used for Italian and Mexican dishes. Its dried leaves add a warm, spicy flavor to recipes. The plant is a perennial, has pink flowers, and spreads via under-ground runners.
In early spring, sow seeds indoors, 1/8 inch deep in sterile soil. Be sure that you keep the temperature above 70ºF and provide 14 to 16 hours of light.
After danger of frost has passed, and after the plants are hardened off and about three inches tall, plant outdoors in well-drained soil. Oregano prefers to be kept slightly dry and in full sun.
Harvest in summer or early fall before the plants are in full bloom by cutting the stems, flower heads and all, and drying in a cool place with good air movement.
The Victory Seed Company does not advocate medical self-diagnosis or self-medication. Reference to the medicinal properties of plants are described here for educational and historical purposes only and are not to be construed as a prescription, prognosis or diagnosis for any disease or illness.  As with any remedies or medicines, you should consult your personal health care provider before using.
References:
"

A Modern Herbal

," Mrs. M. Grieve, 1931, p. 520-521.
"

Antiviral efficacy and mechanisms of action of oregano essential oil and its primary component carvacrol against murine norovirus

," Gilling, D.H., Kitajima, M., Torrey, J.R. and Bright, K.R., Journal of Applied Microbiology. doi: 10.1111/jam.12453, February, 2014.
"Antimicrobial Activity of Basil, Oregano, and Thyme Essential Oils," by Hercules Sakkas and Chrissanthy Papadopoulou, Microbiology Department, Faculty of Medicine, School of Health Sciences, University of Ioannina, Ioannina, Greece, Journal of Microbiology and Biotechnology, 2017, Vol.27-3, pages 429-443. [PDF]

Explore our vegetable collections: